Breville Compact Juicer Review : Most Popular Juicer Of 2022?
Posted On December 8, 2022
The Breville Compact Juicer is fast, efficient, easy to clean and simple to use. It's powerful, saves space and affordable. If you're in a rush and want your juice ready in a jiffy, a Breville Compact Juicer is one of your best choices!
(Last updated on June 1st, 2022)
Breville Compact Juice Fountain
For the value and features packed into it, the Breville Compact Juicer is among the most inexpensive models. Its powerful motor can shred any produce into juicy pulp – literally within seconds! If you're looking for speed and convenience, read this Breville Compact Juicer review – and then buy one for yourself
.
In a hurry? Here's a snapshot review for you…
What's Good About the Breville Compact Juicer – And What's Not?
Pros:
very compact, fits into small kitchens
really inexpensive
powerful, with 700 watt motor
wide feeding chute
fast, juices in just seconds
saves time – you enjoy more juice with less work
very little pre-juicing preparation time
trusted brand, worldwide market
durable and sturdy, lasts long with proper care
Cons:
leaves behind a wet pulp
somewhat noisy
Our Rating Score: 4.8
Read the full Breville Compact Juicer review to learn more about the juicing machine's performance, cleaning, features and other competing juicer models. Or if you're already sure this is the right one for you, you can buy a Breville Compact Juicer here
.
An Ideal Juicer For Beginners With A Small Kitchen
Juicers have become ubiquitous appliances. Breville is among the best-selling juicer brands. And one of its top models is the Breville compact juicer.
Breville Compact Juice Fountain
The Breville Compact Juicer : Features At A Glance
Powerful 700 watt motor
Spins at 14,000 rpm
Crushes and extracts juice within seconds
Titanium blades effortlessly pulp any fresh produce
Wide feed chute reduces prep time
Efficient stainless steel fine-mesh filters
Easy to clean and long-lasting
Safety lock prevents accidentally turning it on before locking
Large capacity (800 ml) juice jug
Froth separator enhances juice flavor
What makes the Breville Compact Juicer So Popular?
Like as with any other juicer, this Breville Compact Juicer review will study the appliance from a perspective of 5 broad aspects –
Performance
Design
Ease of use
Cleaning
Price.
On all of these counts, the Breville Compact Juicer performs well against its closest competitors.
Performance : A Power Trip Like None Other
Anyone trying out the Breville Compact Juicer for the first time is in for a treat! If you think about it, it's pretty amazing how a kitchen appliance that takes up so little space
can pack so much power inside.
Within seconds, your fresh juice will be ready! No matter whether you are juicing oranges or apples, wheatgrass or carrots, strawberries or tomatoes, you'll be stunned at how effectively – and effortlessly – the 700 watt motor shreds it into pulp to extract juice.
It handles firm and soft produce alike with equal ease, and at 14,000 RPM you'll soon discover that it won't take much time to juice anything.
Almost all fruit and vegetable fed into the juicer will get pulped without even having to push it around. Leafy greens are the only exception. The instruction booklet clearly recommends that you bundle greens to juice most effectively. Feeding leafy greens along with firm produce also helps better juicing.
Breville Compact Juice Fountain
Titanium Coated Blades
Tough, strong and really sharp, the rapidly spinning titanium blades  simply slice and dice through the toughest of fruits or vegetables. The spinning disc forcefully tosses damp pulp against the fine mesh filters, with the pressure created squeezing liquid juice out while the dry pulp falls into the bin.
Too Much Power?
Many Breville Compact Juicer reviews praise the wide chute that makes feeding produce into the machine quicker and easier. There's however a bit of downside to this.
Smaller fruits like berries may be spewed back out due to the rapidly spinning blades. To avoid this, use the food pusher to quickly send the fruit into the bowl.
Another problem related to the powerful motor is that the Breville Compact Juicer
is a little too noisy for some tastes. However, the good news is that since it juices so swiftly, you'll only have to tolerate the motor's whine for a very short time!
Design: Elegance Matched With Function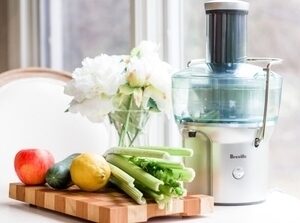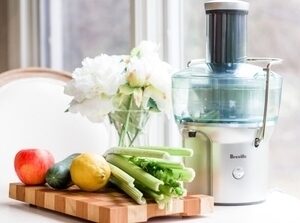 The Breville Compact juicer couples design elegance with function. It offers owners:
a neat, simple yet elegant design,
a tiny footprint that lets it fit comfortably even into small kitchen spaces, and
a lovely silver-tone base to give it aesthetic appeal that enhances any kitchen.
You may enjoy gazing on the mesmeric sight of produce being juiced, clearly visible through a transparent bowl. The highlight of a Breville Compact Juicer
is, however, how little counter space it takes up. The juicing machine only has 4 components:
a juicer base housing the powerful motor
a main bowl that can be fixed to the base
a blade and basket assembly that also locks on the base
a juicer cover to shut the bowl snug and tight
These parts snap on conveniently together, making it easy and quick to assemble the juicer. A neatly integrated pulp bin is fully enclosed within the main body, a lovely piece of engineering design that reflects the creativity and effort that went into making this masterpiece.
The Breville Compact Juicer's feed chute is wide, with a diameter of 3-inches. This is large enough for you to insert larger chunks of fruits or vegetables without blocking it. As a result, your pre-juicing prep time is kept to the minimum.
Many users will appreciate the safety features
built into this juicer model. Unless the safety locking arm is securely engaged, ensuring the juicer cover is fixed tightly, the device will not turn on. This helps avoid messy spills.
Ease of Use : A Strong Plus
A benefit that users enjoy from the well designed Breville Compact Juicer is that it is simple to operate, convenient to dismantle afterwards, and a breeze to clean up.
Quick Assembly
It's easy to put the Breville Compact juicer together. Just follow the instructions and make sure you lock in the safety arm. The machine will turn on only when this lock is in place.
Disassembling Is Easy, Too
To dismantle the juicer
after you've finished, simply snap open the lock and take the parts apart. You can then wash them separately.
Cleaning up soon after juicing is recommended. That way the fibres won't have time to harden on the blades, making it more difficult to remove later on. You'll also prevent staining of the bowl or blades by pigments in the juice, or even corrosion of metal parts from prolonged exposure to weakly acidic liquids.
Cleaning : Easy, Quick, Even Fun
If you've grown used to the hassles of cleaning up after using a juicer, you can forget about them when you buy a Breville Compact Juicer
. Not only is this user-friendly juicer so simple to put together and operate, but it is just as easy to clean up afterwards.
Use a soft sponge with warm water for the best results. All parts are made of durable materials and can be washed in the dishwasher.
Only the fine mesh needs a little more care while cleaning, and some reviewers have quoted this is a significant drawback of the Breville Compact Juicer.  It's no more than a minor nuisance, though. To clean the mesh most effectively, you may use a stiff brush supplied by the manufacturer., using it like a spatula to scrape off debris. For dried up produce, it helps to soak the mesh
for a while in water with lemon juice.
Breville Compact Juice Fountain
Price: It Is Really Affordable
The biggest advantage of the Breville Compact Juicer is its affordability. At just under $100 it is within the budget of most buyers. A Breville Compact Juicer is just as ideal for
a student on a shoe string budget, or
a newbie juicer wanting to experiment with juicing quickly and easily without splurging on an expensive machine, or
the experienced juicer looking for a compact juicer machine to fit inside a small kitchen with limited counter space, or
someone who needs just a couple of glasses of fresh juice every morning for a small household.
The Breville Compact juicer matches requirements of a diverse group of customers. That's what makes it a natural first choice for people in search of a healthy lifestyle.
Product Specifications
Brand: Breville
Model: Compact Electric Juicer
Price: under $100
Dimensions
Height: 16 inches
Base: 10 x 10.5 inches
Weight: 1.35 kg (2.99 lbs)
Material: polymer, titanium blades
Capacity: 800 ml (25 ounce)
Power: 700 watts
Speed: 14,000 rotations per minute
Add-on: juice jug, cleaning brush
Warranty: 1 year limited
Are There Any Other Juicers To Consider?
There are several other models. And one of them may be ideal for you, depending upon your juicing needs. Take a look at some top alternatives …
Centrifugal vs Masticating Juicers
The Breville Compact Juicer
is a centrifugal type juicer. It uses a powerful motor which spins the disc at high speed in order to extract juice. These types of juicers squeeze out the juice very fast compared to masticating juicers. Masticating juicers need more time and preparation of the produce also needs meticulous attention to detail. Not so with centrifugal juicers which have larger feed tubes.
The juicing in masticating juicers takes place when tiny pieces of the fruits or veggies are crushed by rotating gears. And this is slow process even though the juice quantity is higher and quality of juice better.
But it takes time and patience. And many people sorely lack this. Particularly on busy mornings when the family is hurrying and hustling to get to work or school or college or somewhere else.
So a centrifugal juicer that juices in a jiffy is very appealing. And when the cost is fraction of what it costs to own a masticating juicer, it becomes almost a no-brainer to buy the Breville Compact Juicer
.
Why are centrifugal juicers are more popular?
Because they are fast, cheap and effective at juicing. The Breville Compact Juicer
handles both tough and soft ingredients with ease and it will offer years of trouble free service. That's why thousands of delighted customers rave about it on Amazon
.
Check out the reviews on Amazon's Breville Compact Juicer
page. The best thing for many shoppers is the highly affordable price of this juicer model.
In a nutshell: Breville Compact Juicer
Buy the Breville Compact Juice Fountain
When it comes to multi-speed centrifugal juicers, the Breville BJE200XL Compact Juice Fountain
is matchless in efficiency and power.
You can choose from between five different speed settings which make the motor rotate from between 6,500 and 12,500 rpm. You can use this Breville juicer for various types of food.
This means you won't keep referring back often to the manual, or wonder if your juicer will be suitable for a specific kind of food, fruit or vegetable the way you would with a less robust juicer.
The Breville BJE200XL Compact Juice Fountain
has an embedded smart chip that automatically adjusts the power setting and transmits the necessary force to the titanium cutting disk. If the load for the juicer gets transiently too high, the machine won't get bogged down or stop – it just works a little bit harder.
A safety lock mechanism prevents accidental spillage and built in mechanisms keep the machine from turning on unless all the parts are properly assembled.
These reasons make the Breville juicer a popular favorite among thousands of home makers, and the Breville BJE200XL Compact Juice Fountain a fixture in many kitchens around the world.
Breville Juice Fountain Compact Juicer – Breville BJE200XL Compact Juice Fountain
Breville Juice Fountain Compact Juicer
is a centrifugal juicer. It has more than one speed to help you juice more efficiently. A powerful 700 watt motor powers this Breville juice fountain juicer through 5 different speeds from 6500 rotations per minute to 12500 rotations per minute. The difference in speeds allows users to juice different types of fresh produce more effectively.
Breville Juice Fountain Compact Juicer – Smart Chip
The Breville juice fountain compact juicer or Breville BJE200XL Compact Juice Fountain comes embedded with smart chip technology. The power supplied to the juicer's titanium cutting disc is automatically reset once the juicer's chip senses the weight of the produce.
Sometimes while juicing the Breville juice fountain juicer might overload for a few seconds. This doesn't stop the Breville juice fountain compact juicer. The chip embedded in Breville juice fountain compact juicer automatically supplies extra power to handle the extra work.
Breville Juice Fountain Compact Juicer – Safety Features
Design and safety are key features of the Breville Juice Fountain Compact Juicer. Despite being reasonably priced product the attention to detail in terms of design and safety are astounding.
The safety mechanism prevents accidental spillage of any juice. Second, this mechanism also prevents accidental operation of Breville juice fountain juicer when not all parts are properly locked in place.
All the above factors make Breville Juice Fountain Compact Juicer a real favorite among hordes of buyers.
Thousands of reviews on Amazon and other websites with user reviews speaks volumes about how prized the Breville Juice Fountain Compact Juicer is because customers are impressed with how well the Breville juice fountain juicer works.
Every year thousands of new buyers of Breville BJE200XL Compact Juice Fountain join the ranks of happy customers of Breville Juice Fountain Compact Juicer.
Breville Compact Juice Fountain
The Gradual Shift To Healthy Living 
So, what changed in the last decade? The last decade has seen an up tick in the number of gyms, juice bars, sporting facilities, walking tracks, bike tracks, healthier food options, active wear, juicers. You get the drift? Folks are looking at leading a healthier, more active lifestyle that includes plenty of fresh foods and less processed stuff. That explains the increase in gym memberships and juicing. In fact, juicing has taken off in a such a big way because people are trying to compensate for their busy, stressed, sedentary lifestyles by including more real food in the form of fruits, vegetables, whole grains and fresh juices which are easier to consume. Yes, and the Breville Compact juicer has been at the forefront of this juicing revolution.
Breville Compact Juicer's Starring Role In The Juicing Revolution
Breville Compact Juice Fountain
About a decade ago the documentary Fat, Sick and Nearly Dead aired and it is probably one of the most influential docu-series to air in terms of its impact on the food industry. It unleashed the wellness revolution through juicing. Joe Cross uses a Breville juicer in his journey back to health and ever since, Breville has become one of the most popular juicer brands.
Feedback on Amazon
Take a look at Amazon's Breville Compact juicer page. You will be astounded to see over 6000 reviews with an average of 4 and half stars rating out of 5. These reviews are by verified customers who bought the Breville Compact juicer. That's a huge number of satisfied customers for just one of the models from Breville.
Breville Compact Juice Fountain
To Buy Juicers or Juice – The Dilemma
All this talk of juicers might make you think that every home is equipped with a Breville juicer. That is one more myth. Even though more number of kitchen appliances like the Breville Compact juicer are being sold every day you may be surprised to know that not everyone is following an active, healthy lifestyle. Not every one owns a juicer.
Most people buy their juice from fresh juice bars, restaurants, supermarkets or health food stores. An epidemic like Covid that forces us to stay home means we are forced to rethink our ways and think about buying a Breville compact juicer so, we can juice at home. Many baulk at the thought of juicing at home, as they think it is time-consuming. Time is precious  and it is always in short supply. Folks would rather buy juice off the shelf. This notion of juicing being time-consuming is so far off the truth that we have to right now break the myth. If you can spare two to five minutes every morning and own a juicer like the Breville compact juicer or any other juicer you can surely have a fresh, delicious glass of juice in less than the time it takes to walk or drive to the juice bar.
Breville Compact Juice Fountain
Ease Of Juicing at Home
It's time to go shopping for a juicer. Once, you buy a Breville Compact Juicer
and start using it, you will realize how much time you have been wasting when you could have easily been juicing at home. You can create some truly delightful flavours that taste absolutely fantastic. It's fun to whip up your juice and drink it fresh – immediately. Fresh juices have an amazing taste unlike store bought stuff that's been sitting in a package on a supermarket shelf forever. So…
IN CONCLUSION:
Is a Breville Compact Juicer the BEST Centrifugal Juicer for You?
The Breville Compact Juicer
is powerful and can make juice really fast. It is also efficient. And very easy to clean. If you are short of time and need to make juice in a jiffy, then this juicer is a great pick. Best of all it is one of the cheapest juicers for the quality and features. It's powerful 800 watt motor rips through any fresh produce you put through the feeding chute. You'll enjoy fresh juice within seconds.
If you compare it to a masticating juicer in terms of efficiency it may come off second best. But most buyers prefer it
for speed and the convenience. To sum it up one last time, here are the biggest benefits from buying a Breville Compact Juicer
:
very compact, fits into small kitchens
really inexpensive
powerful, with 700 watt motor
wide feeding chute
fast, juices in just seconds
saves time – you enjoy more juice with less work
very little pre-juicing preparation time
trusted brand, worldwide market
durable and sturdy, lasts long with proper care
Our Breville Compact Juicer Rating Score: 4.8
Which Breville juicer is the best?
Which juicer is the best to buy?
Does Breville make a masticating juicer?
Is the Breville je98xl a masticating juicer?