Clean 14 Cleanse Program
Posted On December 14, 2022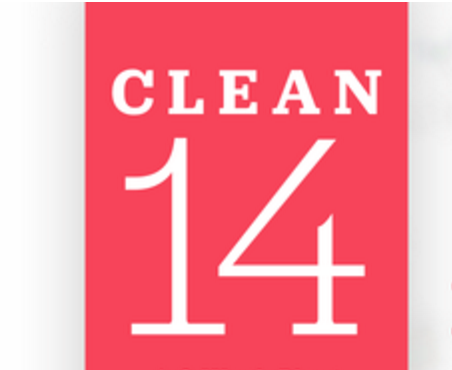 CLEAN 14 Cleanse
A 2-week plant powered cleanse and slim down program for health, happiness & detox
Next round starts Monday January 17th!
Learn my secrets on how to detox, shed pounds & live healthier with ease in our 14-day clean eating cleanse 

Imagine this for yourself…
Waking up after a good nights sleep – energetic, energized and ready to start the day, without caffeine
Looking and feeling light in your body, fitting into a smaller size all while getting glowing + *beautiful* skin
Craving healthy foods that keep you slim, make your mind clear and reduce inflammation
Here's what's getting in the way
Problem #1
Thanks to unhealthy foods, food industry processes, the products we use everyday in our house, and environment toxins in our water, air and oceans, most of us are filled with toxins. It's wreaking havoc on our bodies and overall well-being.  It's stopping us from slimming down and feeling our best.
Problem #2
It's hard to know what to eat, and how to do a whole food cleanse without support, knowledge and a solid plan to keep you on track.
And here's the facts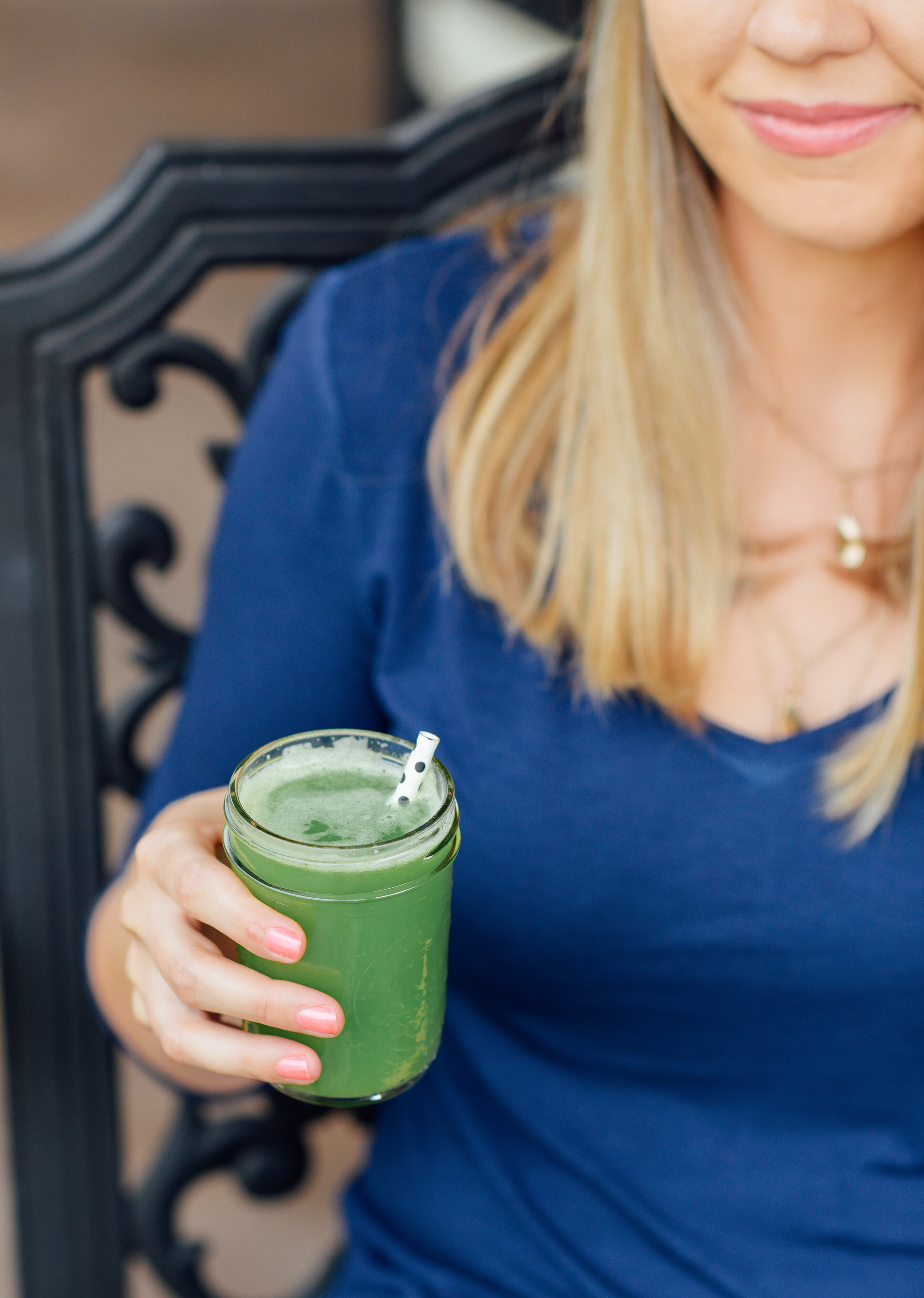 1.  Clean eating combined with the powerful effects of the juicing helps us shed toxins, and give us a butt-kicking daily boost that gives us more energy to get through our day.
2.  A clean body drops pounds quickly and easily, and fights signs of aging by keeping our system alkalized – food is our medicine to help us get to an alkalized state.
3.  Jumpstarting our body with a cleanse will help your body rid it of toxins and function optimally. Translation? A good diet will help us lower our risk of disease and health problems.
4.  If you'd like to cleanse, but you're not ready to do a juice fast – a whole food cleanse and eating clean is much easier to do and incorporate into your lifestyle.
But you know some of this already, right?
Maybe you are already juicing regularly, love your smoothies and try to eat well.  Still, something's holding you back from really diving into a whole food cleanse for a true jumpstart.
If any of these sound familiar…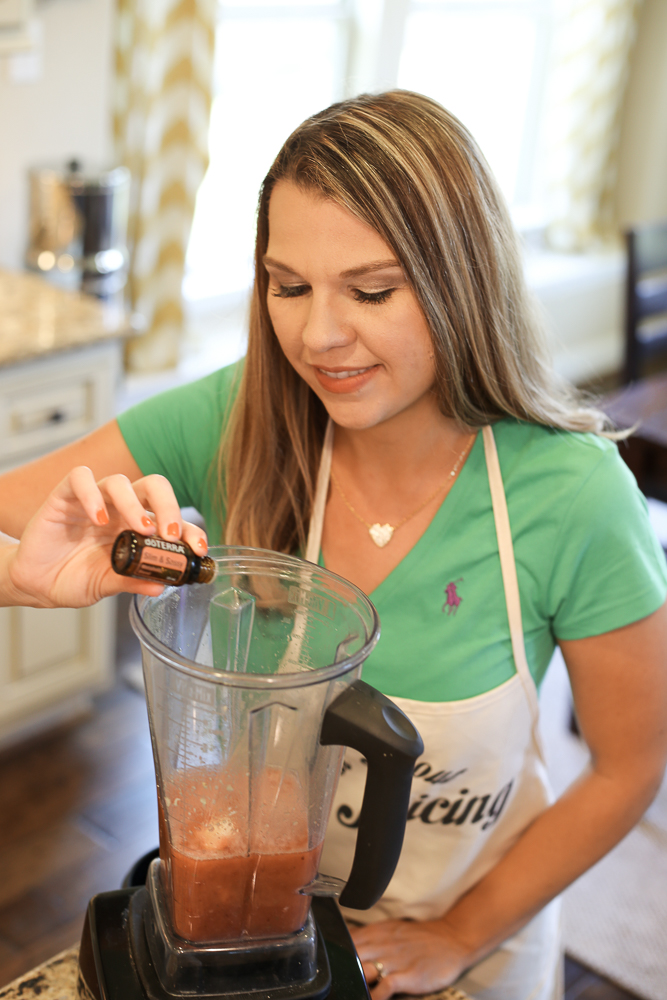 "I know I should eat cleaner and want to get on track. I need support and don't know where to get it!"
"I'd love to try doing a cleanse to get rid of all the junk that has built up in my body over the years, but I don't know where to start."
"I've tried recipes and cleansing before, but it didn't really jive with me."
"I'd love to learn how to reset my body and shed a few pounds, but I'm just not sure how."
… You're exactly where you need to be!
I've created a fabulous 14-Day cleanse and slim down challenge, called Clean 14, that we'll do together.  It will be easy and fun way to jumpstart your health.
Introducing Clean 14 
A 14 day cleanse and slim down program for health, happiness & detox


This is a whole food, clean eating meal plan – everything you need to make for breakfast, lunch and dinner for a whole 14 days (that's 28 lunch/dinner recipes and 14 juice and smoothie recipes!)
It is a low sugar, high nutrient plant-powered plan to help boost your metabolism and support your organs to cleanse.  Because I wanted to make sure this challenge was as good as it could be, I've carefully crafted it alongside certified Nutritional Therapist and Board Certified Holistic Health Counselor Lily Milkovic.
I have been juicing for over 1 month and I have never felt better in my life, as a 65 yr old retiree, I found the fountain of youth, no more knee pain, no insomia! I also have lost 18 lbs.  – Vicky

Our next Cleanse starts January 29th, 2018!
Value: $97 Special offer!
Get added to the Cleanse group for only $49.00

Click below if you prefer paypal 
You will be added to the Cleanse group within 24 hours.  Cleanse begins on January 17th
Registration ends soon!  See you inside, it's going to be a great time!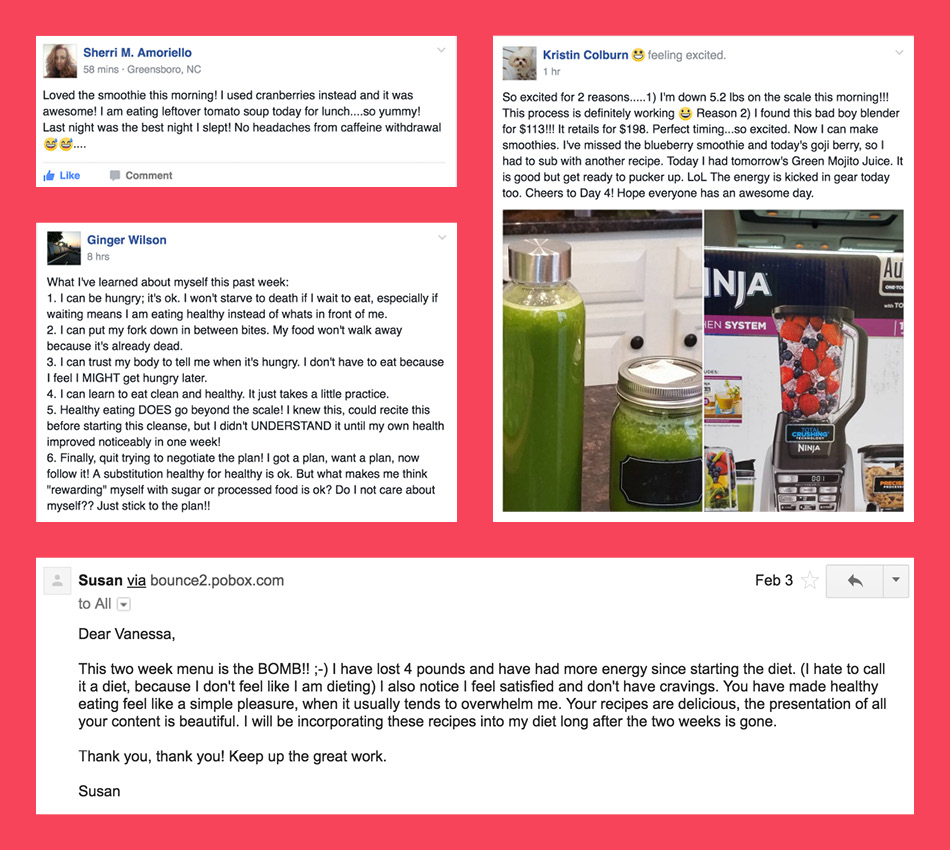 Here's my story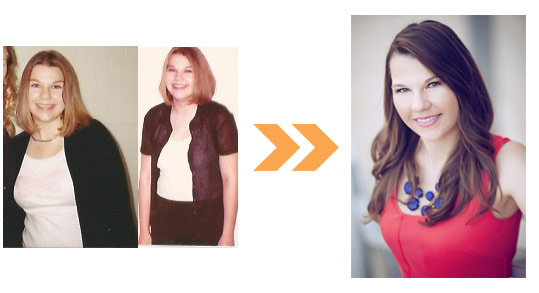 When I was 11, I contracted Lyme Disease from a deer tick.  It initially caused problems with my heart, eyes and joints but the disease went dormant for several years.  When I hit my 20's, I got very sick, and that's when I started my journey into nutrition and how to live a healthy lifestyle.  I started with juicing & smoothies, but quickly moved on to cleansing and clean eating.  
Many years later, I've achieved great health when others around me are still sick.  There are many variables that I include in my daily life to get me here – and it's time for me to share more!
I created this program because you've asked for it, I know you want to dig deeper into cleansing and I want you to reap the benefits of it.
I want to go beyond juicing with you and show you how to do a cleanse that will teach you new recipes you can use for a lifetime, but more importantly, jumpstart your health to achieve optimal health – to live longer and better.  
THIS EXACT CLEANSE is how I detox, reset and shed pounds when I need to.  It's like my restart button.

This Cleanse is for you if…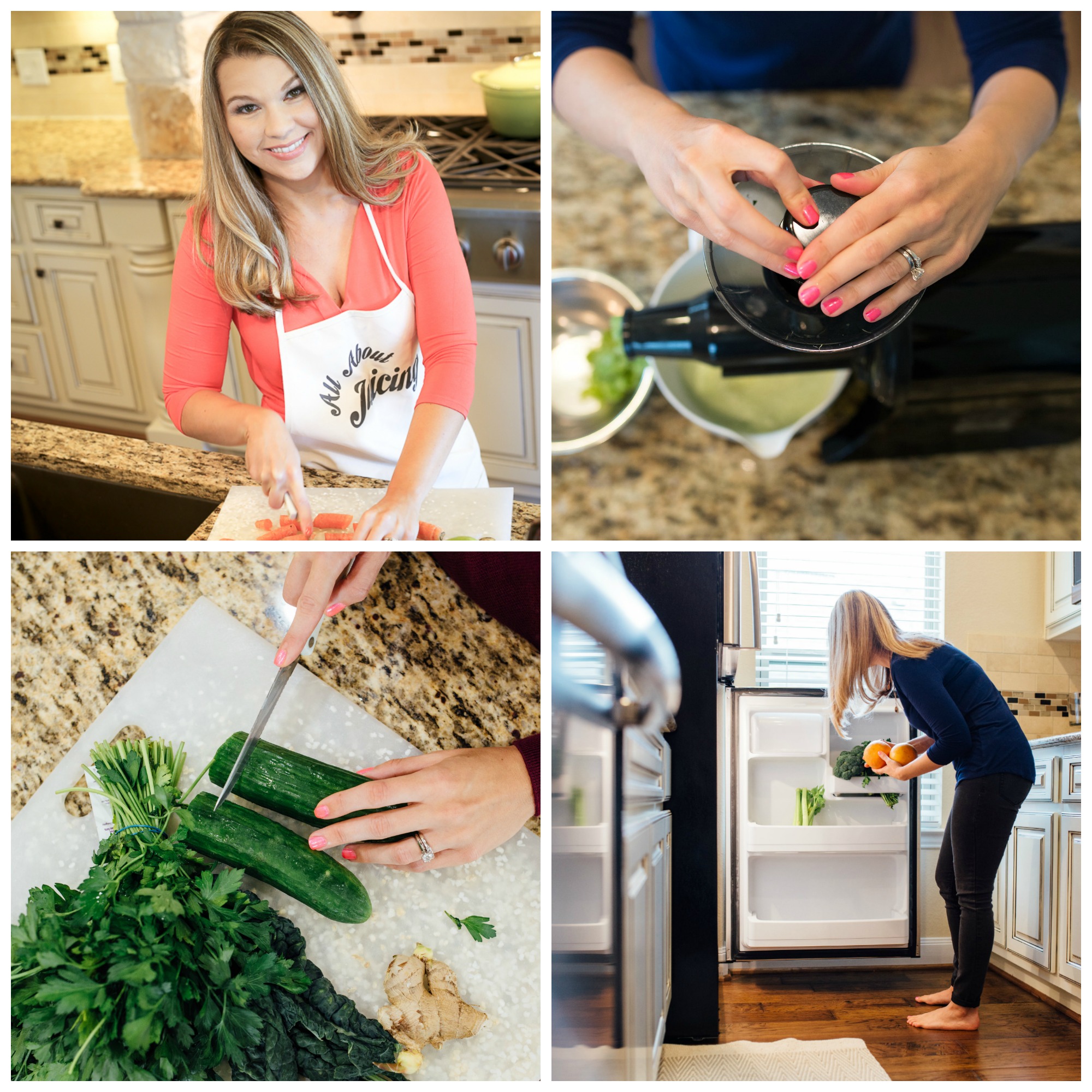 You want to look and feel light
You want to shed unwanted pounds
You're super busy
You'd like to crave healthy foods but not sure how
You want to wake up energized
You want to feel more energetic
You want to avoid unwanted weight, health issues and junk food cravings
You are positive and like to have fun
You like a good challenge!
You'd like new clean food recipes to use for a lifetime
You believe that good health is an important part of living well
You'll learn…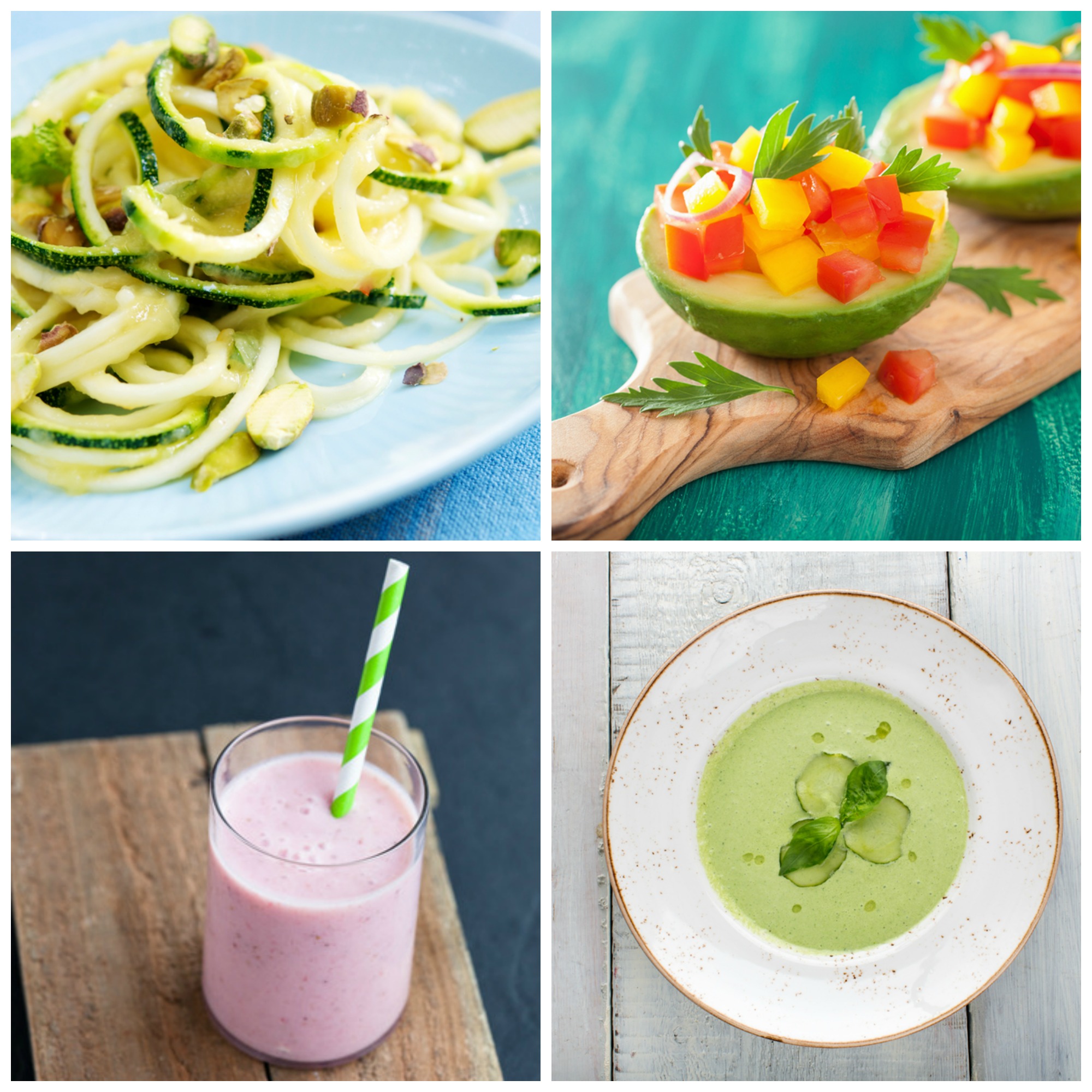 How to make clean, plant powered meals that are free of common allergens, and taste good
Easy recipe swaps to make your meals clean and diet healthier
Information on detox symptoms, and what to do if you get them
How to assist your body in cleansing naturally everyday.
Information on enhancing your cleanse with the power of essential oils and how to use them topically, or in juices, smoothies, infused waters and meals.
How to food combine
The everyday drink I consume to enhance metabolism, digestion and reduce inflammation.
The personal products I use in my house, on my skin, and in my cooking.
The failsafe plan to go back to again and again to do periodic cleanses.
Advice and tips on water intake, organics, mindset, eating on the go…and so much more!

Experience real results! Will this be you, too?
On average, participants report losing an average of 4-14 pounds, sleep better, feel lighter and have more energy. 
After the cleanse, I stepped on the scale on the fourth morning and whoa! It blew my mind. I had literally dropped 10 pounds! I thought, no way..that can't be possible, but there it was. Ten pounds gone. Now, I knew that certainly wasn't body fat but was toxins, water weight, etc and thought to myself, hey I can really like this whole juicing thing.  Stop the merry-go-round of sickness and sadness TODAY. Don't forget, it's not about weight, it's about HEALTH. The extra pounds you lose are a bonus! – Dee
I started juicing with you from January of 2014 and boy was it amazing. My skin was already smooth, but it became flawless, my belly fat decrease, I stopped falling asleep at work, I wasn't experiencing fatigue any more, etc. The results are so amazing that to date I am still Juicing even if it's just 2 vegetable or what ever I happen to have available at the time. It's to the point that when I miss a day I feel guilty.  – So Irie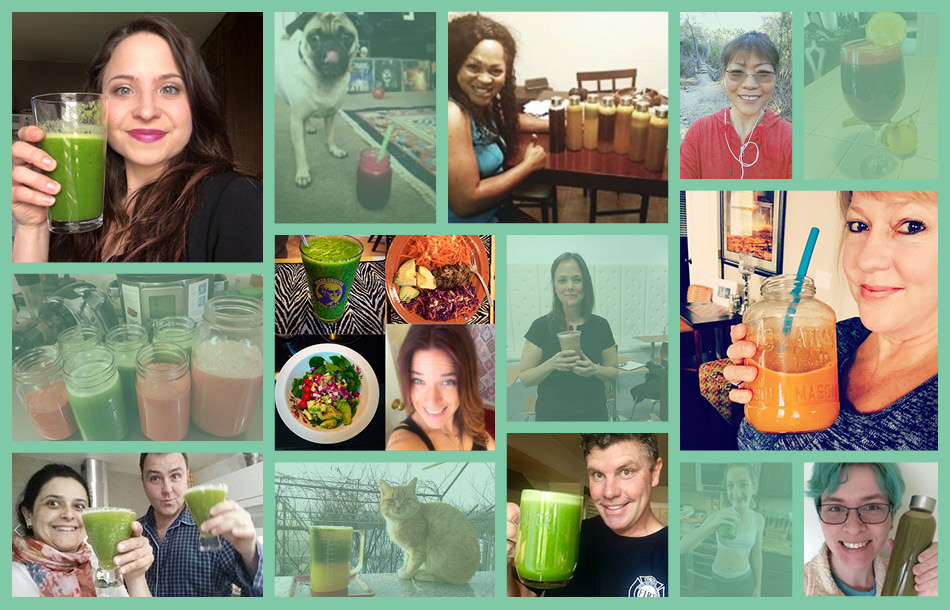 How the 14-day cleanse & slimdown program works
This is a 2 week cleanse that will guide you through eating clean to lose weight; boost energy; detox; and improve your looks, mood, and overall health, with over 60 recipes.
It is a LIVE cleanse program and we will be going through it together, as a community.
It's a plant based cleanse that incorporates a juice or smoothie for breakfast, raw lunches and a lightly cooked dinner.
The Breakfast Menu
You can use a blender if you don't have a juicer (or use both).  Eating a light breakfast encourages your body to continue the cleansing process it did the night before and also encourages healthy elimination.

The Lunch & Dinner Menu
The lunches and dinners are light but beautifully satisfying and created to encourage healthy detox and weight loss.  You'll feel great eating so cleanly.  It's plant powered because this creates an environment for optimal cleansing.  But don't worry, I'm not about restrictions, I'm about good food, happy living and simplicity.

These recipes are made by me and the ones I actually eat on a daily basis.  This is my preferred way to cleanse, and I do this plan, or some variation of it, a few times a year. I'm thrilled to go deeper into my lifestyle and share with you what I do beyond just juicing each day.
If you've done any of my challenges or have followed me you know I'm all about positive energy and having a good time.  That's exactly what we're going to do during this cleanse!
We'll be doing this together, day by day, and it will be easy ….and a blast.
You get all this
STEP BY STEP GUIDE, MEAL PLAN & RECIPES
A comprehensive 14-Day Cleanse Plan Guide with recipes, strategies and advice – over 60 recipes!
This guide has everything you'll ever need to conduct your own whole food cleanse – long after our group has concluded.  You'll be set to do your own reset any time of year.  You'll get info on detox side effects, how and why to cleanse and healthy habits to adopt a clean lifestyle.  It includes 14 days of plant based, clean meals and a shopping list for each week – it is what we will follow as a group.

SNACK & DESSERT RECIPES

A cleanse doesn't mean you can't have some yummy snack and dessert recipes!  There are a lot of recipes in here you'll come back to make again and again.  Savory and sweet recipes included!

FOOD JOURNAL

You'll get a food journal which is so important to help you with a successful cleanse.  You'll be able to record how food makes you feel and effects you – to help you stay on track – but more importantly, discover what works for you and your lifestyle.  You'll learn more from this than you think!

DAILY EMAILS TO GUIDE YOU

You'll get daily emails throughout the cleanse for inspiration to keep you on track. You'll be guided through this entire process.  Each email will also contain insight into a new essential oil, and their benefits, each day.

EXCLUSIVE VIDEOS

Over 20+ exclusive videos, including daily chats, to guide you through the cleanse and inspire you with tips and advice.

MEMBERS ONLY AREA

Access to a members only area where you'll have access to the instructional videos, daily videos, the cleanse guides and any updates.

PRIVATE FACEBOOK GROUP ACCESS

Access to a fabulous facebook community for support, encouragement and advice.  You'll get VIP support for your personal question's and be able to share your experience within a loving and accepting community.
Extra bonuses!
BONUS # 1: ESSENTIAL OIL GUIDE & RECIPES
This is a favorite of mine, and something I'm really excited to share – how to use the power of essential oils in your foods and everyday life! You'll get an Essential Oil Guidebook that includes how and where to get them, my favorite oils and their properties and how to use them, as well as essential oil blends.  This also includes Essential Oil recipes that utilize essential oils for infused water, in smoothies, juices, dips, snacks and desserts.  Totally optional, but a great bonus if you want to learn more and use them.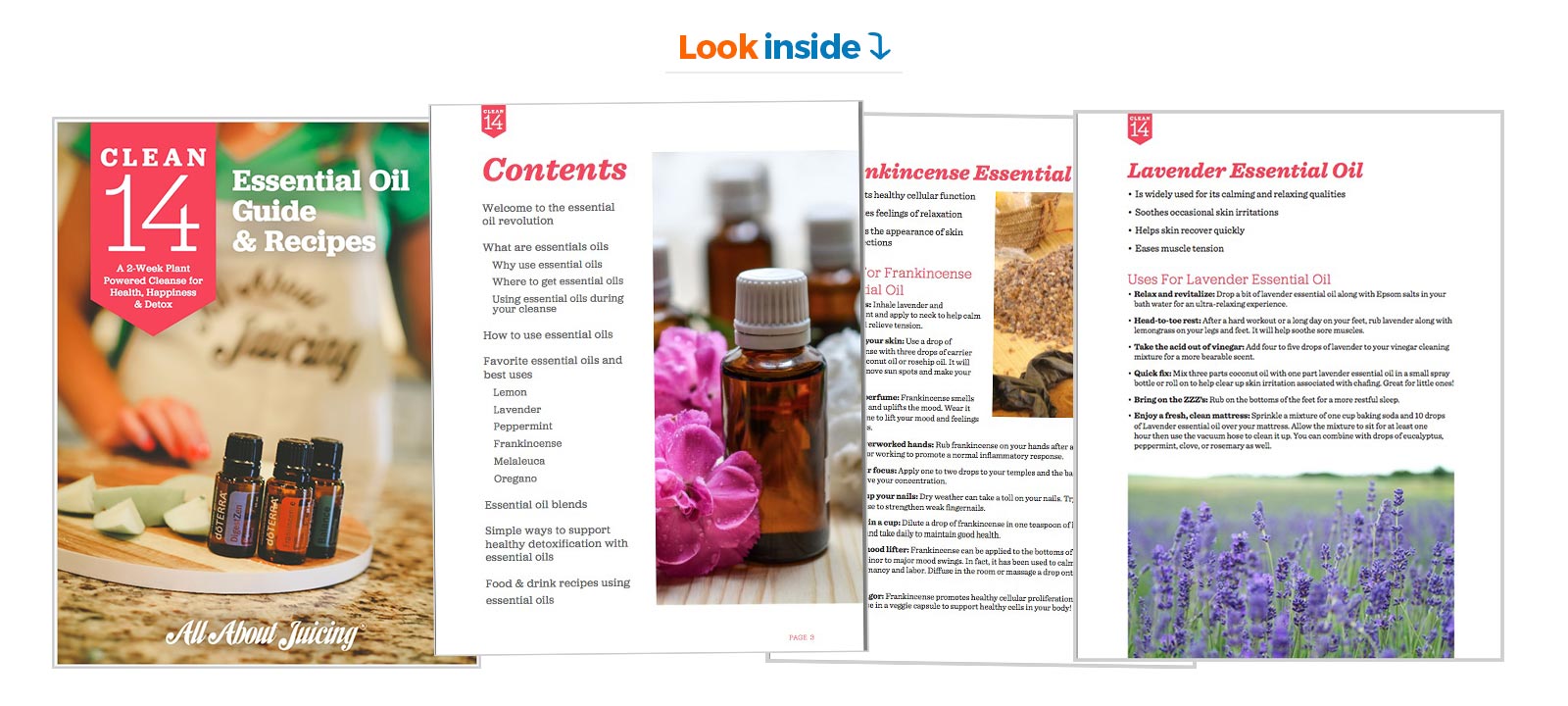 BONUS # 2: WEIGHT LOSS ACCELERATOR GUIDE
This guide will take you through details on how to speed up your weight loss with healthy habits, supplements, special juices and other considerations if you're stuck.  This took me many years to discover and I'm thrilled to put them into an all-in-one resource for you.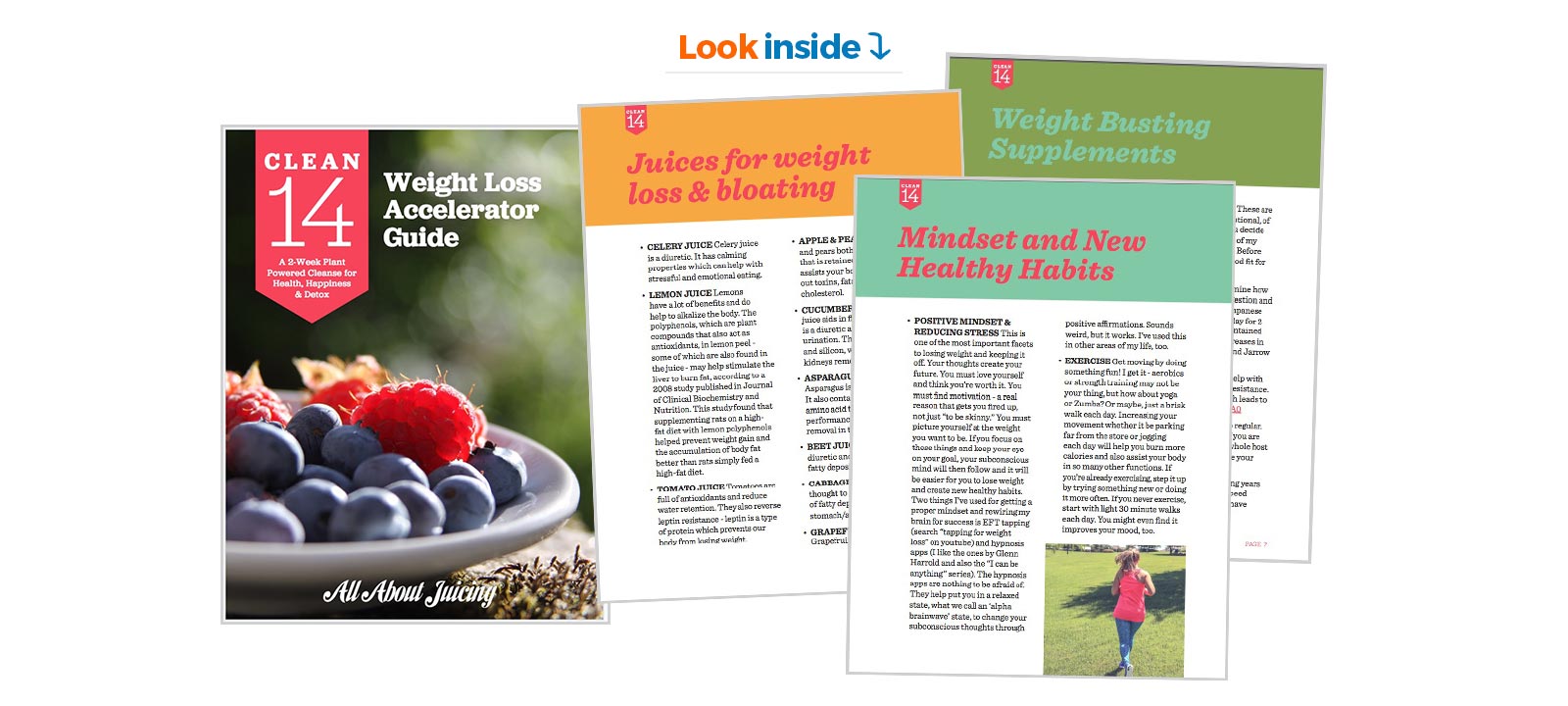 Exactly one year ago I was practically bedridden from severe Fibromyalgia! I was diagnosed 10 years ago, but it got progressively worse- to the point where I was planning how to take my own life exactly a year ago.  A "foodie-friend" of mine sent me the link to your website and I lay in a bed, curled into a hopeless ball of excruciating pain…and started reading.  It inspired me so much that I got up, got dressed (takes ages because I could hardly move) and went to the local fruit and veggie wholesaler.  I got home and juiced a bunch of veggies and a few fruit for taste, and kept going every day!! Within 3 weeks I was walking normally – slept better – and even did some gardening!  Then I realized that I was using only one capsule of meds a day!  Its now a year later and I have lost about 8kg and this is the best I've felt in years.  I want to thank you from the bottom of my heart, for being instrumental in stopping me from committing suicide! – Amanda
I can't take a day without a coffee. It's quite costly. Since I started drinking juice, coffee does not even cross my mind. I totally don't look for it anymore.  I've also noticed a great change in my complexion.  I've had Rosacea for years and since doing this my skin is as clear as a newborns.  Thank you 🙂  – Jamie
I substituted Juice for a meal every day these past 3 weeks, and noticed my skin is brighter with fewer breakouts. Also, I noticed I didn't need my coffee right away when I had juice for breakfast 🙂  – Sarah
About the cleanse creators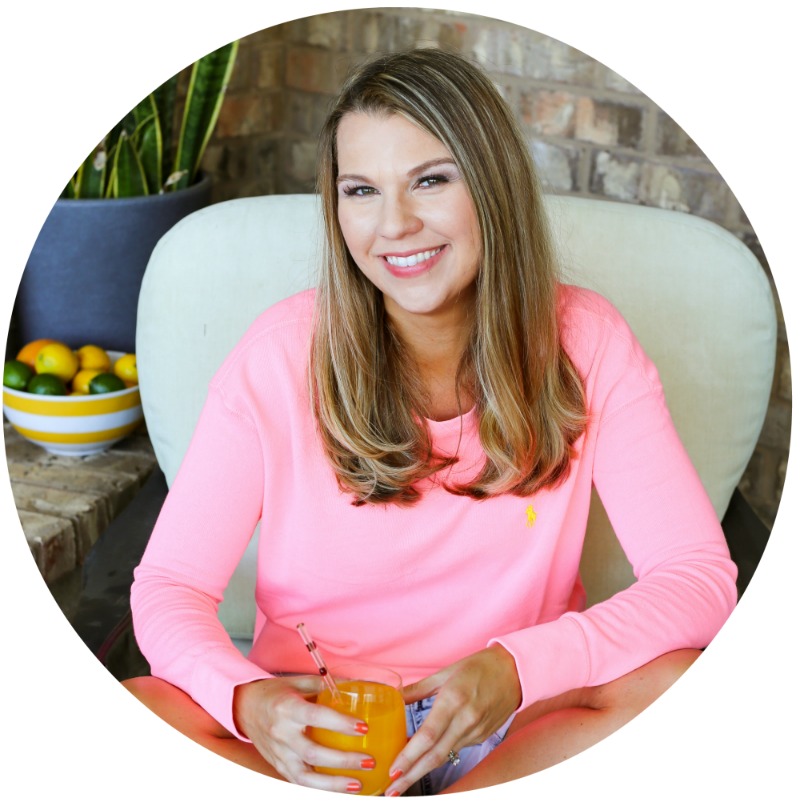 VANESSA SIMKINS is a health author, the best selling author of 'The Juice Lover's Big Book of Juices' paperback and the founder of All About Juicing, a website and newsletter serving up fresh, tested juicing advice for getting a hot body, glowing skin, and lifelong health through a straw.  She connects with over 300,000 fans and over a quarter of a million visitors each month on her site.  She started juicing and studying natural therapies when she got sick from her lifestyle choices and Lyme disease.  A juicing trendsetter known for her inventive and tasty juice recipes, Vanessa has an undying thirst for connecting people back to what makes them healthy, one drink at a time.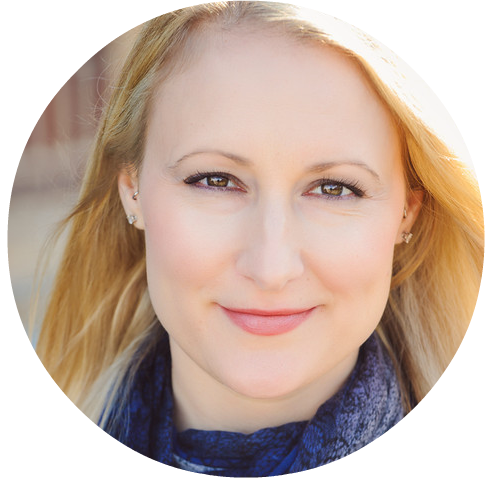 LILY MILKOVIC is a certified Nutritional Therapist and Board Certified Holistic Health Counselor, a Certified Kripalu Yoga Teacher, a member of the American Association of Drugless Practitioners and a member of the Westin A. Price Foundation. She is the author of a the 'Feel Well Project' and has a BA from Loyola Marymount University in Sociology, a former life in post-production for various TV shows in Los Angeles, and a supportive and loving husband with whom she enjoys traveling and exploring life and the world. She has dedicated her life to continuing to heal her thyroid autoimmune disease naturallyand is committed to helping others nourish their bodies and souls. 

Ready to join us?  We start on Monday January 29th!
Here's a recap of everything you'll get…
A guided 14 Day Cleanse experience with Vanessa Simkins and the All About Juicing Community
A comprehensive 14-Day Cleanse Plan Guide with recipes, strategies and advice that you can use over and over again — over 60 recipes!
A food journal to record your meals and how you feel
A clean snack and dessert recipe booklet to make healthy versions of sweet and salty comfort foods
Bonus #1!  An essential oil guidebook that includes how and where to get them, my favorite oils and their properties and how to use them, as well as essential oil blends. It also includes recipes that utilize essential oils for infused water, in smoothies, juices, dips, snacks and desserts.
Bonus #2!  A weight loss accelerator guide to help you bust through the extra pounds
Daily emails for inspiration to keep you on track
Over 20 videos to motivate, guide and teach you about cleansing and living a clean lifestyle
Access to a members only area where you'll have lifetime access to the videos, guides and any updates
VIP access to a fabulous Facebook community for support, encouragement and advice
Value: $97 Special offer!
Get added to the Cleanse group for only $49.00

Click below if you prefer paypal
Common FAQ's
Q: Why 14 days?
14 days is the perfect amount of time to challenge your body to cleanse, restore and set you up for success. It will give your body time to heal and will give you time to adjust and see real benefits.
Q: If I have one of your guides already, is this for me?
This challenge is a new LIVE program we do as a community – it's never been offered before and has completely different information – so yes, this will be a new life-changing experience for you!
Q: What if I don't have a juicer, only a blender?
No problem on not having a juicer machine. I have a blender variation for you if you have a nutribullet, ninja, vitamix, blendtec or other blender.
Q: Can I get physical books or are these products digitial?
These products are digital and nothing will be shipped to you. You can download them immediately and get immediate access to the members area. This saves you shipping and makes the program affordable for all.
Q: I don't eat meat, gluten or dairy. Can this work for me?
Sure it can! This challenge is plant based and free of those things. It takes you through how to incorporate juicing, smoothies and clean eating into your diet. These are important points to know and will take you to another level of health.
Q: What if I don't want to lose weight, only cleanse?
That's totally fine! No worries. This challenge was crafted so that both or either of these things can be achieved depending on your personal goals.
Q: Can I do this if I am pregnant?
Everyone is encouraged to consult with their doctor before doing any health regimen. Cleanses and weight loss challenges are not really recommended when pregnant, but this challenge incorporates tons of healthy recipes, so if you'd like to incorporate that into your diet, and have a plan to use for life, then it can benefit you. Plant based diet will only bring nutrition to your and your baby – but you will want to eat hearty portion sizes.
Q: Do I have to use essential oils in this challenge? Do you provide the oils?
No you definitely don't have to use essential oils. It's just there as a bonus to enhance your experience if you like them. We won't provide the essential oils, but you can buy them via our recommended companies, your local health foods store, or Amazon.com.
What others say about CLEAN 14
We have hundreds of testimonials, but here are a few to inspire you!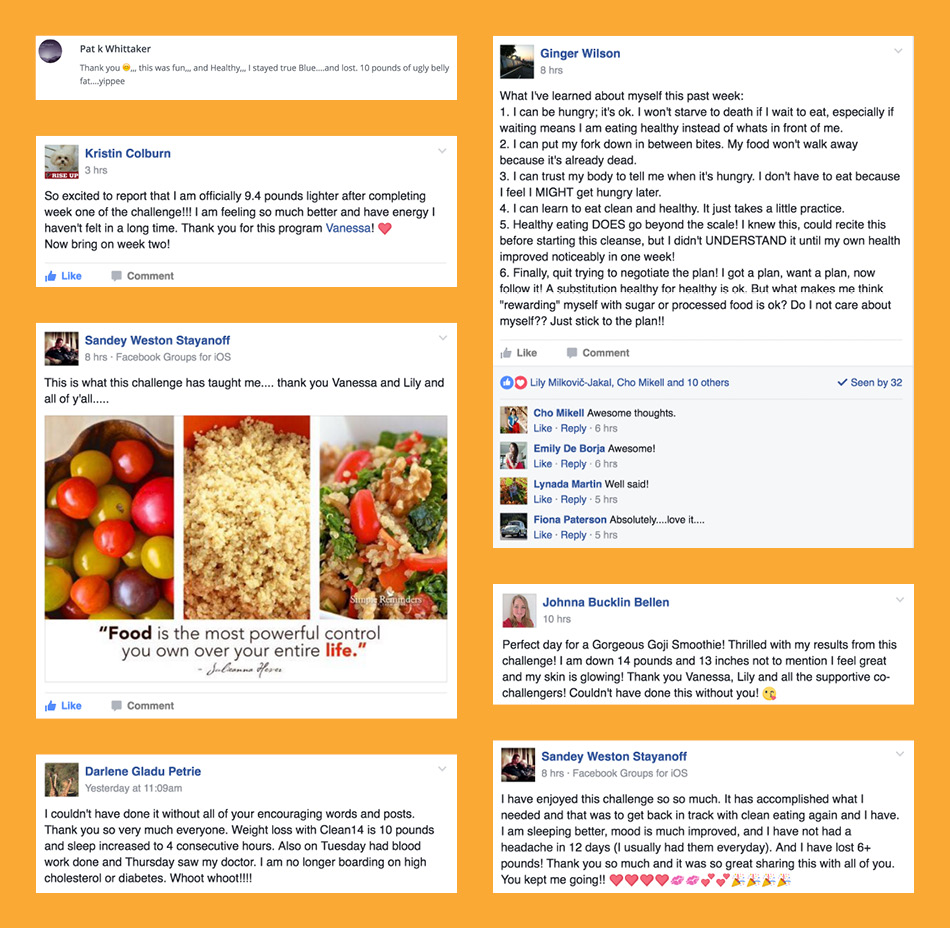 Value: $97 Special offer!
Get access to the Clean 14 Cleanse for: 1 payment of $49.00

Click below if you prefer paypal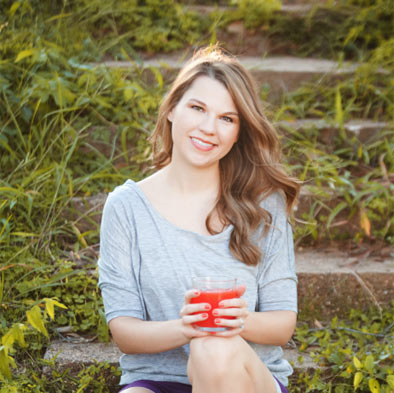 You will be added to the Cleanse group within 24 hours.  
Cleanse begins on January 17th. Registration ends soon!
See you inside, it's going to be a great time!
Love + Juice,