Skinny Salad Recipes | Two low-cal but delicious salads
Posted On December 15, 2022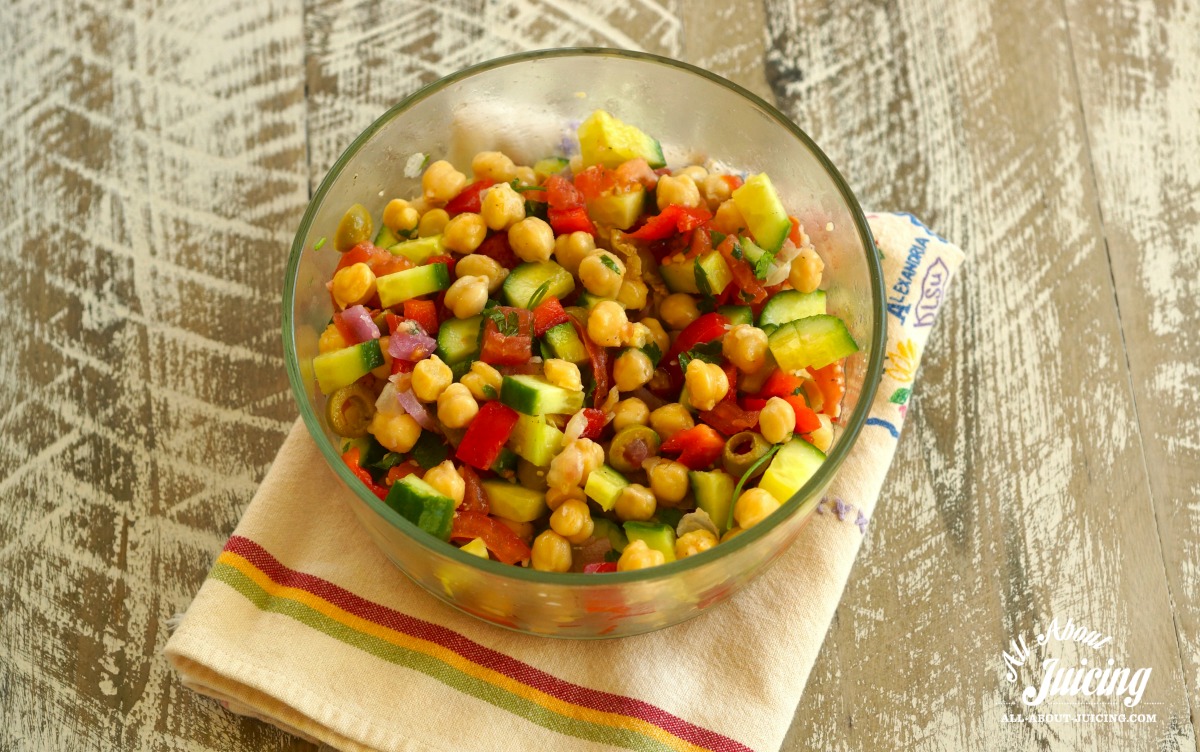 Try these light & clean skinny salad recipes during our juice challenges to accelerate detox and weight loss.
Here are two skinny salad recipes that I really love when I'm looking for a light, healthy meal.  These work perfectly in conjunction with our juice challenges if you're looking for a deeper detox or to accelerate some weight loss.  Substitute one meal each day with juice, and one meal with one of these salads.  
I like to make a batch at the beginning of the week and then just pull it out and add any extras before serving.
Chopped Greek Veggie Salad
This chopped greek veggie salad is so easy, and so yummy.  One batch keeps extremely well during the week to just pull out and serve.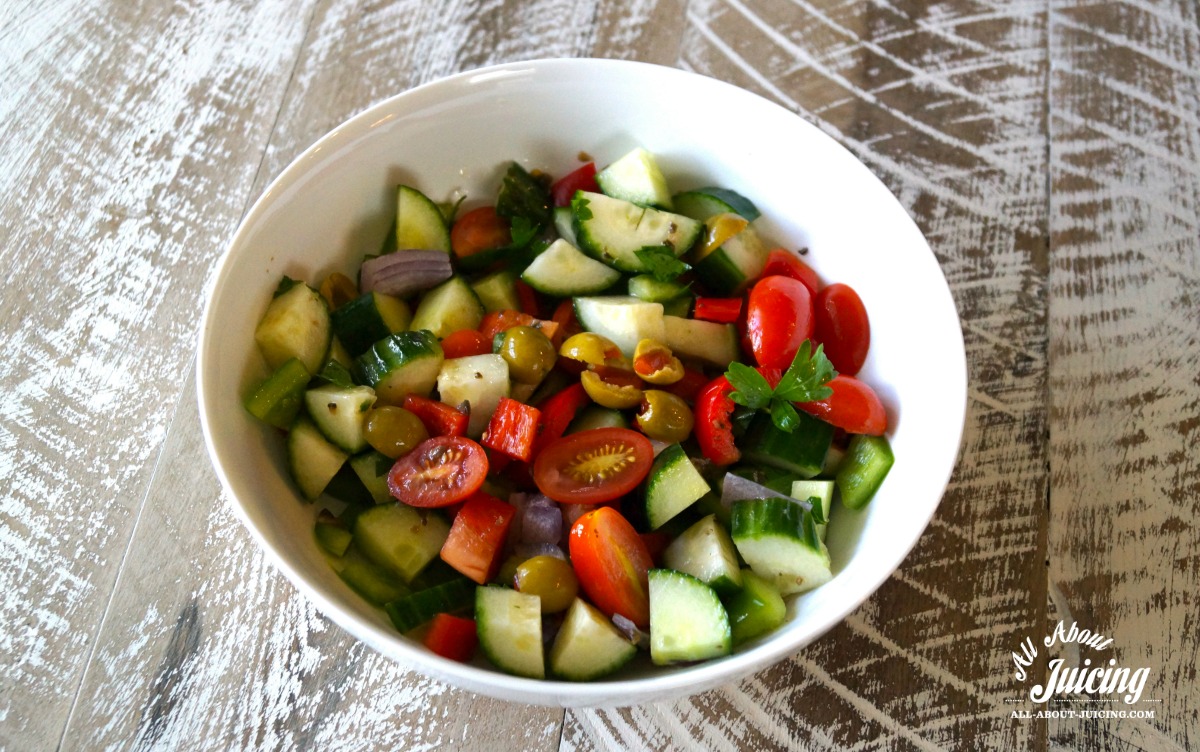 INGREDIENTS
For the salad:
2 large english cucumbers, sliced
1 pint grape tomatoes, cut in half
1 red bell pepper, chopped
1 green bell pepper, chopped
1/2 red onion, sliced thin
1 cup kalamata or green olives, cut in half
2 tablespoons chopped fresh parsley
For the dressing:
1/2 cup extra virgin olive oil
Juice of 2 fresh squeezed lemons
2 cloves garlic, minced
2 teaspoon dried oregano or Italian blend spices
1 teaspoon sea salt
1 teaspoon black pepper
DIRECTIONS
Place all salad ingredients in a bowl.  Whisk all the dressing ingredients, pour over chopped salad, combine well. Serve.
Chickpea Salad with Tomatoes & Lemon Dressing 
This salad also keeps so well during the week.  It's filling and completely satisfying.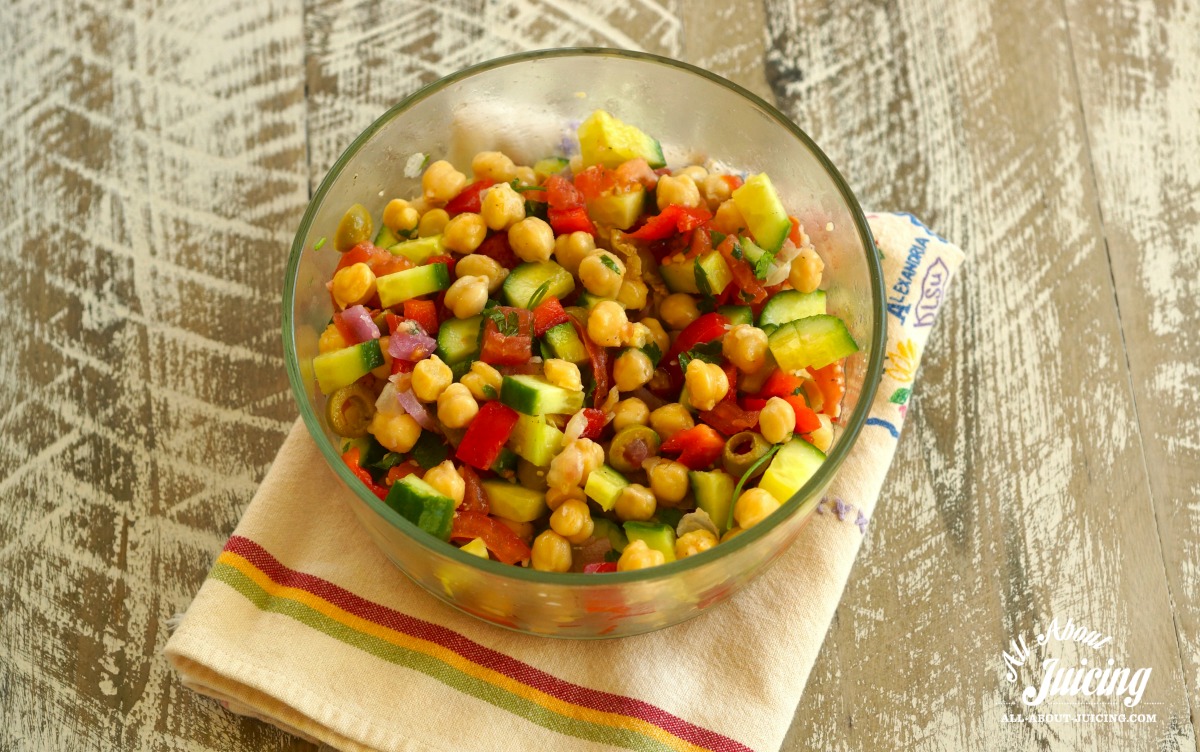 INGREDIENTS
1 15-ounce can chickpeas, rinsed and drained
4 tomatoes, chopped or 1 can of diced tomatoes
1/2 red onion, chopped
1 clove garlic, minced
1 cup pitted and sliced, green olives
1 teaspoon Himalayan sea salt
1  teaspoon black pepper
1/3 cup extra virgin olive
Juice of one lemon
Optional: cucumbers or finely chopped romaine or green leaf lettuce
DIRECTIONS  
In a large bowl, combine the chickpeas, tomatoes, onion, garlic, olives, salt, pepper, olive oil, and lemon juice. Toss together, eat right away or refrigerate until chilled.  Serve 1-2 cups per person.
Optional: You can add a few cups of finely chopped romaine or green leaf lettuce to add additional veggies.  
Salad Variations & Additions for the Skinny Salad Recipes
These salads are plant based and very light.  We all have different tastes and dietary needs, so adding some protein, chopped chicken, tuna or organic shredded cheese taste great as an addition to each of these salads.  Diced avocado also works well in both of these salads, but only add it right before eating because it will brown.